The mercury read 30º that late Fall windless morning. Perfect conditions to slice the crisp cold, air with some hot lead. Few people know that
USDA Research Center in Beltsville, MD
has tucked away behind its corn and soybean fields a pretty nifty outdoors shooting range. And thanks to a good friend of ours, we got almost private access to it, two Saturdays ago.
The shooting range is a relic of times gone-by. Times in which the prevailing culture in Suburban Maryland was decidedly 2nd Amendment friendly. It was established back in the late 1940's, when the Department of Agriculture had a large WW-2 Veteran pool in its employee base. Back then, entomologist studying tobacco weevils lived to tell about their days in the jungles of New Guinea. Now-a-days, they live to tell about their shopping experience at IKEA. Sigh! But at least (and for the moment), the old firing range survives.
But before getting to the firing range of old, I had to make sure to comply with the sissyfied Maryland gun-law of today.
Step One - Make sure that my Taurus Ultra-Lite .38 Special was safely trigger-locked at the "tamper-proof" hex lock located behind its hammer.
Step Two - Pack the Taurus in a "sealable" container (a zippered bag will do), and load it in the trunk of my Neon.
Step Three - Pack my bricks of LRN Black Hills Ammo in another "sealable" container, and Load it in the passenger side of my little Dodge.
Now - I'm ready to go. Though I'm sure that back when that shooting range opened, all one had to do was to jam their Model-19's in the glove compartment, and they'd be good to go.
Anyways, It was a good couple of hours at the range. Since for most of that time we were alone, we didn't have to observe tight range discipline. We could walk up to the targets whenever we felt like. Latter on, a pair of deer hunters showed up to zero-in their scopes. Nice people, but we had to button-up for the duration.
My groupings? Nice and tight in 2 inch packs at a 30-yard range, though heeling a bit to the 2 O'Clock position. I guess that I should stop over-anticipating the recoil too much. The required photo-videographic evidence, Below: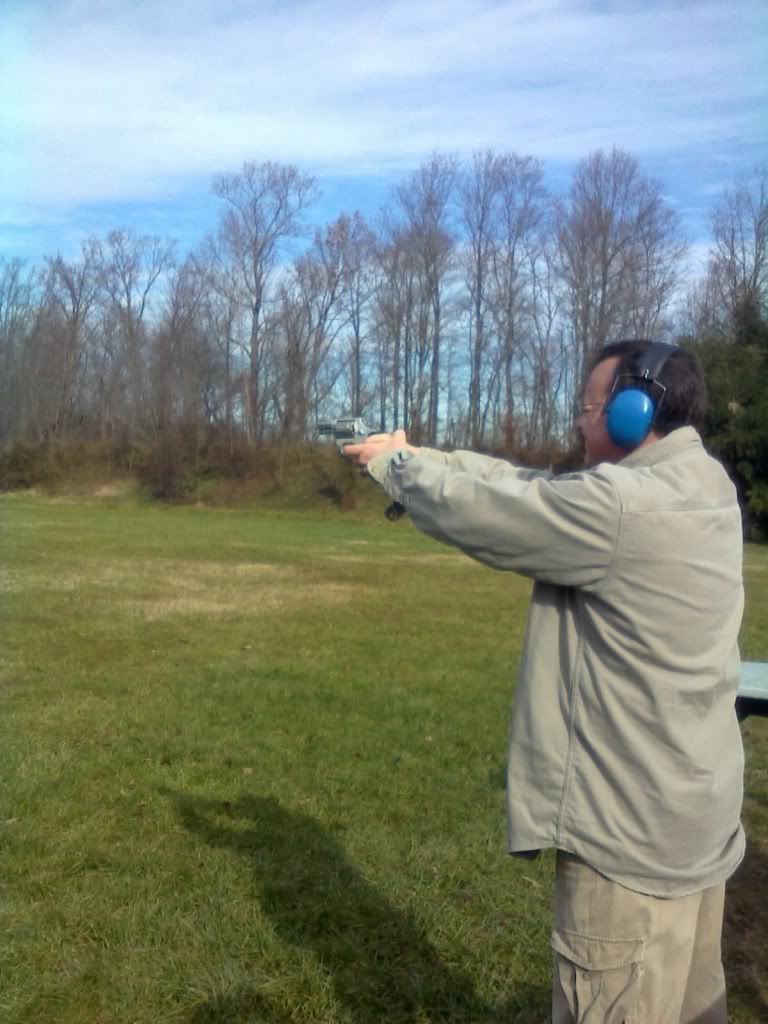 Boq